GRADE 2 GAMES AND ACTIVITIES

The subtraction version of our popular MathNook boxing game. Use your subtracting skills to beat your opponent and go on to the next opponent who is a little tougher. Beat all opponents to become the subtraction boxing champ.

Help MathPup fetch the coins he needs to his bowl. See if you can complete all levels on easy and hard mode.

Help MathPup use his crane to get the number bones to the right dog bowls. Choose to practice counting, counting money or telling time. Watch the video for help: MathPup Crane Video

Help Mathpup jump through the air with the greatest of ease to get the correct numbers. Select Even/Odd, Prime/Composite, Order, Counting, or Factors and start MathPup jumping.

Select the right size toy for MathPup. Sometimes MathPup wants the largest or smallest toy and sometimes he wants a particular measurement. Use the ruler to find it.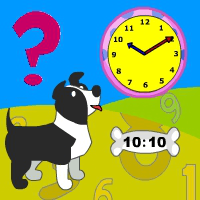 MathPup is now fetching clocks rather than bones in this telling time game. Help him fetch the analog clock that matches the time MathPup wants.
Help Matt H. get through all of the levels in Matt H. and the Secrets of Mathematics by answering the math questions correctly. Get the math symbols for extra points.

Drag your mouse across the tiles so that they add up to the target number. Get higher scores by using more tiles.