Spanish
Math Stations / Centers
Free to Download and Use.
Right click the picture or link and choose "Save Target As..." to download.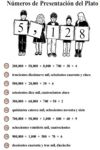 Presentacion del Plato
Skill: Place Value of Decimals and Comparing Decimals
Spanish version of Paper Plate Presentation. Player teams go to the front of the class and use number paper plates to form the number / problem described. Points given to the first team to do so. This is a SILENT game where the class is divided into two teams.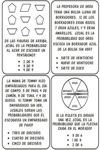 Probabilidades en la Pista de Carreras
Skill: Probability
Spanish version of Chance Raceway. Students answer probability questions from the cards to make their way around the board. First one to the finish line wins. Suitable for two or more players.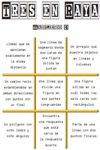 Tres en Raya
Skill: Math Vocabulary
Spanish version of Tic Tac Know. The classic Tic Tac Toe game where students will have to use their math vocabulary knowledge to place an "x" or "o" in the square. For 2 players.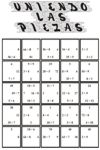 Uniendo las Piezas
Skill: Equivalent Measurement Conversion
Spanish version of Putting the Pieces Together. This is a puzzle game where players must place all of the pieces so that equivalent measurements are side by side. Can be played with one or more players.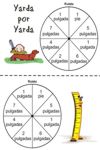 Yarda por Yarda
Skill: Customary Measurement
Spanish version of Yard by Yard. Reach a yard or more by spinning the spinner and moving that amount down the yardstick. For 2 or more players.