Spanish
Math Stations / Centers
Free to Download and Use.
Right click the picture or link and choose "Save Target As..." to download.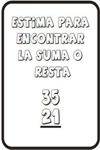 Linea de Estimacion
Skill: Estimation
Spanish version of Estimation Row. Estimate either the sum or the difference. Place a token on the answer you choose to get 4 in a row. For 2 players or team.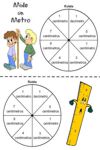 Mide un Metro
Skill: Metric Measurement
Move the full length of a meter by moving the amount shown on the spinner. For 2 or more players.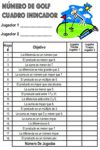 Numero de Golf
Skill: Use of Formal Vocabulary
Spanish version of Number Golf. Yahtzee meets golf with a math twist. Players roll the dice until each math objective is reached for each hole. The fewer throws the better. As in real golf, the player with the lowest score wins.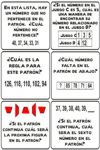 Patrones de Aterrizaje
Skill: Patterning
Spanish version of Landing Patterns. Students answer questions off of the pattern cards so that they can get to the airport. For 2 or more players.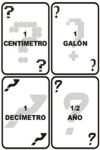 Pista Dentro de la Medida
Skill: Measurement Conversion
Spanish version of Clue into Measurement. Players draw "Clue into Measurement" cards and give clues to help the other player on their team guess the measurement given on the card. For 4 or more players.