Math Stations / Centers
Free to Download and Use.
Right click the picture or link and choose "Save Target As..." to download.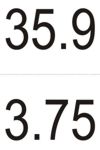 Round the World
Skill: Rounding
A simple but popular rounding classroom game. Perfect to play when you only have a few minutes left in class. Also available for download: Round the World No Decimals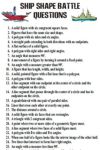 Ship Shape Battle Adv.
Skill: Geometry Vocabulary
The classic Battleship game with a geometric twist. To get a "hit" players have to answer a geometry question correctly. This version of Ship Shape Battle is a little more advanced than the regular version. For 2 or more players.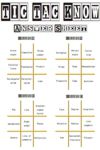 Tic Tac Know Adv.
Skill: Math Vocabulary
The classic Tic Tac Toe game where students will have to use their math vocabulary knowledge to place an "x" or "o" in the square. This version of Tic Tac Know is a little more advanced than our regular version. For 2 players.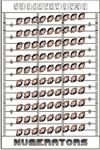 Can't Stop Football
Skill: Reducing Fractions
Players must reduce the fraction correctly on the Can't Stop Football card to move the football down the field. For 2 players.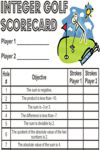 Integer Golf
Skill: Use of Formal Vocabulary and Integers
Yahtzee meets golf with a math twist. Players roll the dice until each math objective is reached for each hole. The fewer throws the better. As in real golf, the player with the lowest score wins.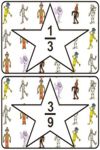 Conversion Concentration
Skill: Equivalent Fractions
A memory / match game where players have to match equivalent fractions. For 2 or more players. Play our free online version of this game here: MathPup Match